Normally, I like to share a "theme" for Thursday, of projects I worked on throughout the week, but I'm still finishing up a few of them, so I have another project I finished last week to show you instead.
It has a bit of a tear-jerker story to go with it though, so have your tissues in hand.
I don't usually think of myself as a possession-crazed person, but I admit that even though I know you can't take things with you when you die, I still wouldn't mind having my gravestone decorated with a few of my possessions…like that pretty little ironstone gravy boat you see in this photo.
I'm not sure where I got it, but I adore it…or did.
It was perfectly crazed with age, and had the most dainty shape, and I even adored the Alfred Meakin marking with a crown on the bottom.   I displayed in my kitchen and it always brought a smile to my face….til a few days ago, that is. (this photo was taken a few years ago, when I listed it in my shop, then changed my mind and decided to keep it).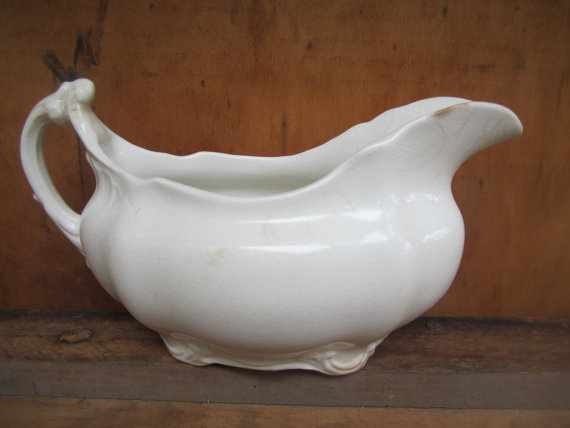 I created a new coat rack from an antique bed side rail, (you can see the coat rack I made from other side rail HERE), and I carried it out to our barn to take photos of it, so I could list it in my shop.  The coat rack has a cottage style to it, so I gathered up some of my things I thought would look pretty hanging on it.  I finished my photos, then carried it back inside.  I should have taken the pretty gravy boat off the coat rack, but this coat rack is very long and it was awkward trying to carry it, and open the door, so I left everything hanging on it.  I got back inside the house, laid it across the kitchen table, and just as I was moving away from it, my coat hit the gravy boat, knocking it to the wood floor, where it broke in many pieces.  I seriously wanted to cry.
So, today I have one less treasure on earth.
I'll admit though, that I will be on the lookout for another antique Alfred Meakin, perfectly crazed & browned creamer.  In fact, I already checked Etsy and didn't find one, but I confess, I did find this sweet little thing and bought it, so I guess I don't really have one less treasure after all.
I had it out of the box for about 2 minutes and had to take some photos of it,
which I shared last Sunday.  It's the perfect little buddy for my larger pitcher.  I guarantee you, you'll be seeing more of this little beauty in future photos – I'm in love with her already.
I do need to remind myself though, that these special "treasures" I have are just things…not real treasures.  Even though getting these photos was the cause of its demise (well, my stupidity is actually the cause, but I'll blame the photos), I am glad that at least I have the photos to remember it by.
Do not lay up for yourselves treasures on earth, where moth and rust destroy and where thieves break in and steal;
but lay up for yourselves treasures in heaven, where neither moth nor rust destroys and where thieves do not break in and steal.
For where your treasure is, there your heart will be also.
Please know that Knick of Time uses affiliate links, including but not limited to Amazon to help keep this blog up and running.