Are you all sick to death of seeing our tiered stands?  I hope not, because my husband and I finished a few more of them for the shop, so I thought I'd show them to you.  I'm always searching for great-looking vintage bowls and pans, and save them up until I can put together the right combination to make a stand.
Occasionally, I get lucky and find a set of bowls and pans that match, which makes the project easier.  This stand was created from 3 tiered cake pans.  This is actually the 2nd set like it I've found, and both had beautiful patina.
We almost always use portions from antique bed posts for the spindle that divides the tiers.  I paint and distress them, and my husband assembles them (because I'm terrible at getting the holes centered in the middle of the pans!)
These 2 enamelware bowls weren't found together.  I got the smaller, top bowl first, then later found the lower bowl, which is a big one, so it had plenty of storage room.  It is the epitome of farmhouse-style.
This one is made from 2 vintage pie tins.
The section of headboard post that we used for the spindle is really well aged, so I didn't paint it.
This one is made from a pie tin paired with some kind of metal sifter bowl.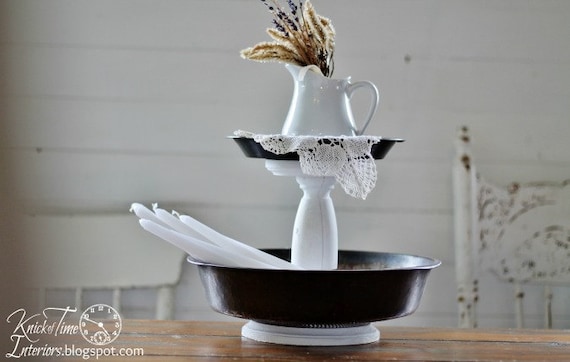 I've gotten several of these in the past, and have never figured out exactly what they were used for – maybe a colander?  If you know, please solve the mystery for me!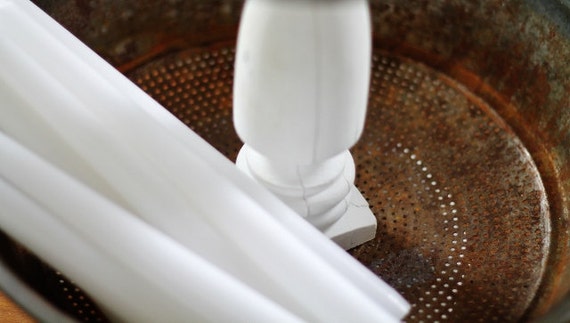 To make your own tiered stands, the full tutorial is

HERE

.
To see more of my Tiered Stands Creations, visit 
HERE.
{I appreciate it when you 

PIN

!}