I have an exciting announcement that I think you'll love, but first (don't you hate "but firsts?"), I want to show you this beautiful old wooden cubby unit.
I got it at an auction last year, and it's been sitting in my workshop.  I completely forgot about it, until I was rooting around for something else, and spotted it up on a shelf.
I think it originally went inside an antique secretary desk, because there was a tray and a small drawer that came with it, but the other parts were missing.  Old cubbies are perfect to use to display small things, and I had fun picking things to style it with.
I thought about applying tung oil to it to freshen up the wood, but decided against it.  I listed it in my shop (HERE), and thought it was best to leave it up to the buyer, because some people prefer antiques not be altered at all.
Now for my announcement!  I've working on a blog post for the last several months that was all about farmhouse style.  I just kept adding, and adding, and adding to it, until it ended up being the world's longest blog post!
I scrapped the idea, because I know people visit blogs to read blog posts – not entire books, BUT I decided to make it a weekly blog feature instead, with a new topic each week!
I'm envisioning it as an online "magazine" – like a resource for those who love all things farmhouse style, and something you can refer to if you are looking for farmhouse decorating ideas and inspiration.
Since there will be a different topic each week, it will be an always-growing resource!
I don't want to share only my own projects though, because there are so many talented bloggers that share my love of farmhouse style, so I'm inviting YOU to participate!  Yes – YOU means everyone, both bloggers and non-bloggers!
Each week there will be a "linky" so bloggers can share anything relating to that week's theme.  Your link doesn't have to be from a recent blog post.  You can share older blog posts as well.  This will be a never-ending linkup, so you are welcome to add new content to each theme at any time.  I'll add more features to each topic YOU share!
IF YOU AREN'T A BLOGGER, and want to submit your photos for possible inclusion as a feature, you can send them to me at jasmasix (at) msn.com.  or watch for the prompt #FarmhouseFriday on Facebook (make sure you are following my page to get the notifications).
Each week, I'll announce the topic for the following week, and I'll share  some favorite features as well.
So, the theme for next week will be …
I'm looking for old-fashioned looking farmhouse tables.  They can be antique tables, or newly-built tables.  They can be tables that have been modified to look like farmhouse tables.
There are only 2 rules to participate:
1)  Your link MUST relate to that week's topic (all others will be deleted).
2.  Your blog post MUST include the button below.  Only those with the button will be featured.
Just grab the code below and insert it into your post, so others know where to find Farmhouse Friday, and join in.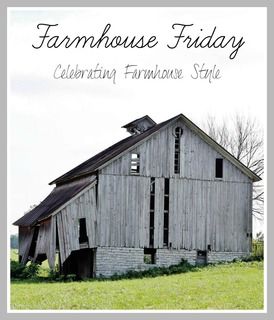 I can't wait to see YOUR farmhouse style, beginning Thursday, April 9th at 7:30 pm central time!
Please know that Knick of Time uses affiliate links, including but not limited to Amazon to help keep this blog up and running.