Welcome to the 17th edition of Farmhouse Friday!
Breadboards and dough troughs are some of the most typical tools you would find in an old farmhouse kitchen, so today we're going to look at ways to use, display and repurpose them in today's home!
I've had quite a few vintage breadboards over the years, but never a truly old one, so last month I set out to make one that looked super old and well used.
You can see how I did it HERE.
Frog Goes to Market. has quite a few antique cutting boards and dough troughs, and they look gorgeous grouped together in a farmhouse kitchen vigenette.
Savvy Southern Style shares some tips for decoratively filling a dough trough.
Here's another dough bowl filled with greenery, pine cones and candles for a seasonal centerpiece, via Faded Charm.
All Things Heart and Home has a great tutorial to make your own beautiful bread and cheese boards from "zebra" wood.
Organized Clutter shows how to turn a breadboard into a cute little shelf!
Anderson  and Grant fills her pretty dough bowl with old book pages – such a pretty combination!
Also from Anderson and Grant – learn to create cutting board word art – too cute!
Miss Mustard Seed fills a dough trough with natural elements, like pumpkins, squash, kale and pine cones as part of her autumn decor.
Hymns and Verses will teach you to make your own food safe breadboard with an authentically aged look.
Ciburbanity shows how she made a thrift store wooden bowl look like an antique dough bowl.
Turn an old cutting board into a tablet holder – Mamie Jane's shows you how!
See how Rosemary @ Villabarnes creates her own "antique" breadboards!
If you missed any of the previous Farmhouse Friday themes, you will find them all HERE.
Next week's theme will be galvanized and metal projects and decor!
Now it's YOUR turn!
Add your link below!
A few simple rules:
1. Only link up photos that are related to the theme – all others will be deleted.
2.  You must include this button in your blog post to help promote Farmhouse Friday.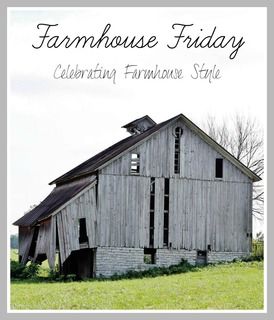 3.  You agree that by sharing your link, I may share your photo as a feature at Knick of Time, or through social media.
Please know that Knick of Time uses affiliate links, including but not limited to Amazon to help keep this blog up and running.