I've been waiting all week for this – It's time for the 1st Farmhouse Friday feature and we're talking about farmhouse kitchen tables!
I've you've ever dreamed of creating a farmhouse look in your home, this feature is for you!  Each week you can look forward to a different theme, so you'll get tons of inspiration and ideas.   It will be like a weekly farmhouse magazine to help you dream and plan and YOU are invited to share your farmhouse style each week as well!
This week's theme is farmhouse kitchen tables.
It's been said that the kitchen is the heart of a home, so farmhouse kitchen tables are the heart of the kitchen.
Come on in and and let's gather 'round the table!
I think farmhouse kitchen tables are the most important feature in a farmhouse style kitchen.  There are many ways to get a farmhouse table for your home, and it doesn't have to cost a fortune.  You can buy a brand new  or antique table, but those will be a pricier options.  If you hold out until you find a bargain at a yard or estate sale, you can find them fairly cheap.  You can also build a table from scratch, modify an existing table, or mix and match parts from different tables.  Let's take a look at 8 different types of farmhouse kitchen tables – one of them is sure to work for you!
My kitchen table is a marriage of two pieces – the mix & match option.  The base came from an antique farmhouse table.  The original top was warped, so we switched it out for an antique cellar door.  The base expands to make a HUGE table, so eventually I plan to switch out the cellar door with leaves so the table can expand to seat more people, but it works fine for us as it is right now.  I paid $45 for the antique table, and the cellar door came from our old house, so this was a very inexpensive table.  And since I removed the original top, I have all that wood left over to use for another project!
For small space kitchens, this wooden cable spool turned into a small round farmhouse style table is an inexpensive and easy option.  I got the cable spool free, and bought the legs at an auction for just a few dollars, so keep your eyes open for those cool cable spools!
If you want to build your own table from scratch, Liz @ Love Grows Wild offers a complete tutorial.  She also has a tutorial to make the matching benches too!
Pamela @ From My Front Porch to Yours created a planked top and added it to her existing table base to make her own farmhouse style table.  This is a great option if you like your table legs, but want a different top.
Sonya @ At Home with the Barkers already had a farmhouse style table.  It just needed a little work to make it beautiful again.  If you like your current table top, you can use her method to improve its appearance.  Don't forget that you can often switch out your table's legs for farmhouse style legs, which will be less expensive than purchasing a new table.  You can often find farmhouse table legs on Ebay, Etsy and Amazon.
Megan @ Farmhouse 5540 has a built-from-scratch table, but you'd think it just came out of an old farmhouse.  If you've never seen her whole kitchen – it's a must!
Ashley @ Domestic Imperfection put a different twist on a farmhouse table and stenciled the top of it, and this table was featured and photographed by Country Living magazine – As in she shipped it TO them and they photographed it.  Yes…it's that cool!
Julie @ Lilacs and Longhorns refinished her table and has some great tips to help others do it.  I'm loving her cow wall prints too!
This amazing table by Kammy's Korner, is called a "Barble" – it's a bar on one side, and a table on the other.  I love it!
Here's just one more that I love by The Shabby Creek Cottage.  I adore the makeover Gina gave on old drop leaf table, inspired by her grandfather who was a cotton share cropper.
Here are a few affordable products to help you bring a farmhouse table to your home (affiliate links).
Farmhouse Bench from Better Homes and Gardens
Now it's YOUR turn to share your farmhouse tables!
A few simple rules:
1. Only link up photos that are related to this week's theme – all others will be deleted.
2.  You must include this button in your blog post to help promote Farmhouse Friday.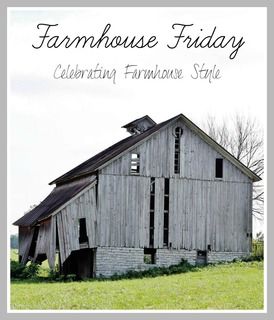 3.  You agree that by sharing your link, I may share your photo as a feature at Knick of Time, or through social media.