Fasten your seat belts, because this week's features are amazing!
All are vintage style, with a TON of creativity. You gals are G.O.O.D!
It is stunning in its simplicity. Makes you want to snatch up every
doily you see in a thrift store, doesn't it?
Lynn @ Trash to Treasure Art
creates the most beautiful necklaces from old perfume bottles and bits and pieces of salvaged jewelry. Gorgeous and so unique!
Most churches host banquets with lovely decorations,
The theme was Mississippi Riverboat Cruise and it looks
like it was so much fun.
And who could resist the adorable entertainment at the banquet?
Feel free to grab this button if I featured you today!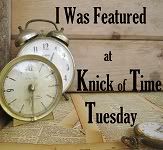 You'll also be pinned on the
Please, do the
following before linking up:
1. Follow Knick of Time
2. Please only link up your
vintage-style
treasures.
No food, giveaways, link parties or sales links or items that aren't vintage-style.
Those links will be deleted.
3. Post a link back within your post,
so others can join the party.
Only those who link back will be featured.
Prepare to be Inspired!
Due to unethical websites stealing content, I can no longer provide a full RSS feed. I work too hard to produce original and inspiring content to have it stolen by others. Thank you for your understanding – I appreciate each one of you that take time out of your day to visit Knick of Time!!