The 1st That's the Ticket Blog Hop Link Party
was a TON of fun!
So many fantastic projects were shared &
I had a great team of co-hosts.
Thanks SO much to all who participated!
We hope to make this a monthly event,
so stay tunedfor more information about
next month's link party in the coming weeks.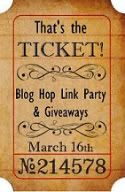 Be sure to check my co-host's blogs to see
if you were a winner of the giveaways they offered!
There were some amazing projects shared at the party
and selecting just a few to feature wasn't easy.
Here are a few that caught my eye.
The jewelry created by
Natalie @ North Shore Days
shows
that you can do something amazing with something as humble as hardware washer!
Full Circle Creations
made some fantastic signs for a client's kitchen
and they turned out FABULOUS!
Carol @ The Polka Dot Closet
created these beautiful water slide decals that she puts on all kinds of jars & bottles for a vintage look that is so charming. LOVE them!!!
As you may remember, I'm at a week-long basketball tournament
in Springfield, MO with homeschool teams from all over the nation participating.
We've been on the go, running from game to game, but I've
managed to visit a few thrift & antique stores while here.
I'm heading in to watch my son's next game,
so I'll come back later this evening to announce the winner
of my Vintage Goods Giveaway that I offered
during That's the Ticket and to tell you a little more
about my stay here this week.
Stay tuned!
Due to unethical websites stealing content, I can no longer provide a full RSS feed. I work too hard to produce original and inspiring content to have it stolen by others. Thank you for your understanding – I appreciate each one of you that take time out of your day to visit Knick of Time!!