Welcome back to the party!
Let's do something a little different this week.
In addition to linking your latest vintage-style post,
I invite you to select ONE post from the past
that was one of your favorites. It may be someone
else's first time to see it. Or, if you are like me,
you have a short memory, and it will
seem like the first time you've seen it!
Please label your link,
BACK TO THE PAST when you link up,
so we can see how many are
sharing a "remembrance" from their blog past.
Now, some fabulous features from last week's party…
gorgeous book covers with French typography pages.
She also shares these pages for you to use
put together a charming arrangement for her
porch using wonderful, vintage goodies and
some flowers. So simple, yet eye-catching.
put some creativity into a tired
old lamp base and gave it a whole new life
as a jewelry "tree". Her recycled jewelry is gorgeous too!
I absolutely love these handmade ribbons wrapped around
vintage wooden bobbins that
for her Spring get-together!
Feel free to grab this button if I featured you today!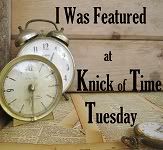 You'll also be pinned on the
Please, do the
following before linking up:
1. Follow Knick of Time
2. Please only link up your
vintage-style
treasures.
No food, giveaways, link parties or sales links or items that aren't vintage-style.
Those links will be deleted.
3. Post a link back within your post,
so others can join the party.
Only those who link back will be featured.
Prepare to be Inspired!
Angie
STOP!
Did I get your attention? :0)
Just a reminder to go
HERE
to enter to win the beautiful
Victorian Pocketwatch Necklace GIVEAWAY
I'm hosting for Ambivalent Relics!
Due to unethical websites stealing content, I can no longer provide a full RSS feed. I work too hard to produce original and inspiring content to have it stolen by others. Thank you for your understanding – I appreciate each one of you that take time out of your day to visit Knick of Time!!