Sweet and Petite are two perfect words
to describe today's "Get the Look" project.
Quick and cheap would be two other fitting words, also.
The inspiration for it came from 2 sets of bud vase garlands
available from Terrain for $22 & 24 each.


While their matching, clear glass bottles are very pretty,
I prefer my mismatched, antique, chipped a little, bottles.
I don't pay more than $2, at the most, for antique bottles,
so I knew I could make it for less than buying theirs.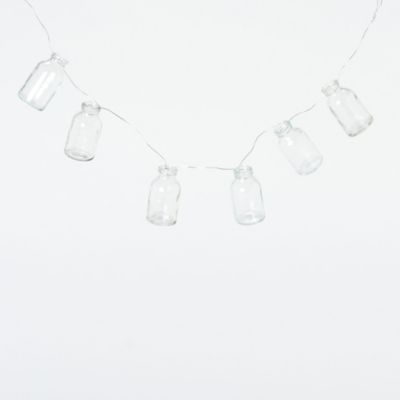 For my version, I just gathered up the smallest bottles
I had and wrapped some thin wire around the necks.
I wrapped the ends of my wires into curly Q's…
just because it's a pretty way to keep extra wire
you might need if you have a wider space to hang them from.

I think you could hang these just about anywhere for
any season – small flowers in the spring and summer,
dried florals in the fall and
sprigs of berries & evergreen in the winter.
They would add a simple, yet striking touch at a wedding as well.
Today was such a gorgeous day, and
I spent several hours taking photos outdoors.
I was trying to shoot really nice photos
and was attempting to get creative with some
of the angles, etc.  It wasn't until I reviewed my photos
that I saw this…


Good thing that wasn't the only close-up shot I took.
I guess that's what I get for trying to be
"photographerish" (pretty sure that isn't a real word),
instead of just shooting straight to begin with.
I'm pretty sure "real" photographers
shoot their photos in spaces a little more impressive than this.
But, sometimes you just have to work with what you have,
and I have an old building, with a cool, rusty, metal wall,
and lots of junk.  It just means I almost always shoot close-up,
so all you see is my cool, rusty, old, metal wall,
and not the rest of my junk on a daily basis.
Please know that Knick of Time uses affiliate links, including but not limited to Amazon to help keep this blog up and running.