Here's some vintage inspiration from last week's party!
Oh my goodness,…I love this potting table shared by
From Gen to Gen
Mazavaroo Chili
shared her extensive vintage tea towel collection.
And I love her laundry cart too!
Lauren @
West Furniture Revival
gave a tired old rocker a beautiful makeover
with a little love and some pretty blue color.
Gorgeous!
I love the new look that
Julie @ Follow Your Heart Woodworking
gave this thrift store metal tray
Feel free to grab this button if I featured you today!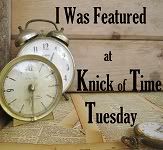 You'll also be pinned on the
Please, do the
following before linking up:
1. Follow Knick of Time
2. Please only link up your
vintage-style
treasures.
No food, giveaways, link parties or sales links or items that aren't vintage-style.
Those links will be deleted.
3. Post a link back within your post,
so others can join the party.
Only those who link back will be featured.
Prepare to be Inspired!
Due to unethical websites stealing content, I can no longer provide a full RSS feed. I work too hard to produce original and inspiring content to have it stolen by others. Thank you for your understanding – I appreciate each one of you that take time out of your day to visit Knick of Time!!
Please know that Knick of Time uses affiliate links, including but not limited to Amazon to help keep this blog up and running.