Welcome back to the 36th Knick of Time Tuesday –
the party to celebrate Old Stuff (or stuff that looks old!).
I've got a bunch of features this week, because I couldn't just
stop and 3 or 4 – there were so many I enjoyed.
I want to give a SPECIAL WELCOME to the new party-goers who visitedlast week – there have been quite a few recently. I love meeting new people and "visiting" their homes and seeing their creativity. Here's one new friend I'd like to spotlight.

Susan @ Must Love Junk
is a new brand new blogger
with beautiful style and
I love her junk
!
Her home was featured in a Home and Garden Tour
that I would loved to have attended.
Please drop in and give a great big,
"Welcome to Blogland"
greeting to her!
Let's see if we can help her reach 50 followers!
I love everything about her style and look forward to
seeing more in the future. She has some great "junk", wouldn't you say?
Jann @ Have a Daily Cup from Mrs. Olson
was inspired by a photo in an old magazine
to give her wonderful old chicken feeder a new look…
She did an incredible job!
Erin @ Carolina Country Living
shared a great tutorial for turning an embroidery
hoop and doily into a wall clock – love it!
Now I know what I can do with one of my grandmother's doilies!
Kelly @ Eclectically Vintage
shared her
amazing collection of antique trophies.
She definitely gets the prize for such a gorgeous collection!
Betsy @ My Salvaged Treasures
is the queen of using salvaged bits and pieces
and turning them into a thing of beauty.
Ceekay @ Doublewide Decor
shared her
remodeled kitchen that turned out beautifully!
I love how she included lots of antique things in the
midst of her new counters, cabinets and appliances.
I'm just a wee bit envious of this beautiful antique toy sewing machine
that
Maureen @ Victorian Studio
purchased with money she
received for Mother's Day. She got an amazing antique map of her city as well.
Check our this stunning Doily Covered Lampshade
shared by
Alecia @ Chicken Scratch
She provides a great tutorial for creating it too!
Rene' @ Miss Gracie's House
gave us a glimpse of some adorable country kids,
rural beauty, and beautifully aged old machines.
You must go see it all! Her photography is stunning
Samm @ Little House in the Big D
shared her pair of beautiful old windows
that finished the look for her sweet kitchen. I
love how she made use of the section with the missing pane
to display a Thank You card from her wedding.
And last, but not least,
Geneva @ My Heart's Song
shared this beautiful
bottle she added an antique graphic to. It's so simple and lovely now.
Feel free to grab this button if I featured you today!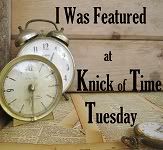 You'll also be pinned on the
Please, do the following before linking up:
1. Follow Knick of Time
2. Please only link up your
vintage-style
treasures.
No food, giveaways, link parties or sales links or items that aren't vintage-style.
Those links will be deleted.
3. Post a link back within your post,
so others can join the party.
Only those who link back will be featured.
Prepare to be Inspired!
Angie
Okay…Let's see your Vintage Style!
Due to unethical websites stealing content, I can no longer provide a full RSS feed. I work too hard to produce original and inspiring content to have it stolen by others. Thank you for your understanding – I appreciate each one of you that take time out of your day to visit Knick of Time!!
Please know that Knick of Time uses affiliate links, including but not limited to Amazon to help keep this blog up and running.