Hey there, vintage-lovers! So glad you stopped
in to get your weekly dose of vintage inspiration.
I really enjoyed hearing so many responses last week
to my, "Where's Your Wedding Dress?" question.
I don't feel so badly about my wedding dress,
hearing at least a few of you aren't one of "those" people either!
a super chippy, antique door from our old Missouri house to
create new pieces. This is my favorite pieces I made.
A customer who purchased several other pieces from the door
is buying this one as well. I wish I had more chippy doors to work
with, because I've gotten several requests for more like this one.
When I say this door was "chippy"…I'm not exaggerating!
Here's a few other pieces I made from the door:
I used old coat hooks on all these and added doorknob escutcheons to a few of them.
Speaking of chippy, old wood – isn't this old window a beauty!
It sold in a snap as soon as I listed it. I had to force myself to list it,
but I already have several antique windows and didn't have a place for another one.
card catalog at a thrift store. She worked her magic on it to revive
it's appearance and it is a real sight to behold now.
She's even made the No. graphics into a printable for the rest of us to use!
Christy @ The Pickin' Pair
also got a vintage card
catalog that her parents found for her at a great price.
I must admit – I'm envious!!!
Brittany @ Buttons, Birds & BS
shared a zip code pillow!
Great idea!!! This would look great on many kinds
of fabrics and all kinds of font styles.
Heidi @ Lightly Crunchy
turned this lovely vintage tea cup and
saucer into a lavender beeswax candle.
Isn't it beautiful?!! I'm sure it smells amazing too.
These would make wonderful gifts and she provides the instructions to make them.
I brought home a few great treasures this week that are available at
Knick of Time on Etsy.
My favorite is this really big, really old, wooden farrier's tote.
I seriously love this, so if it doesn't sell, I won't be the least bit disappointed!
If it hasn't sold by the time our kitchen remodel is done,
it's coming, "off the market", because I think I could put it to good use in my kitchen.


I also brought home this strawberry tote & an old "Wonder Horse" toy.
I think this would be so adorable in a western style child's room.

Feel free to grab this button if I featured you today!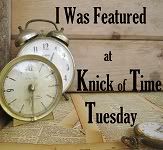 You'll also be pinned on the
Please, do the following before linking up:
1. Follow Knick of Time
2. Please only link up your
vintage-style
treasures.
No food, giveaways, link parties or sales links or posts that aren't vintage-style.
Those links will be deleted.
3. Post a link back within your post, so others can join the party.
Only those who link back will be featured.
Prepare to be Inspired!
Angie
Okay…Let's see your Vintage Style!
Due to unethical websites stealing content, I can no longer provide a full RSS feed. I work too hard to produce original and inspiring content to have it stolen by others. Thank you for your understanding – I appreciate each one of you that take time out of your day to visit Knick of Time!!
Please know that Knick of Time uses affiliate links, including but not limited to Amazon to help keep this blog up and running.