LINKY RE-OPEN!
If you tried to link up earlier and found the linky closed,
it's fixed now, so try again – sorry about that!
Welcome back to the 45th
Check out these features from last week's party.
Christie @ Three Pixie Lane
shares her search for just the right lanterns to hang
in their beautiful dining area. She found a pair
that reminded her of the gas lanterns hanging in the historic district
of their old homeplace in Charleston, SC.
I love the combination of vintage style with modern elegance
in her kitchen and dining room.
Pam @ House of Hawthornes
shared her wonderful collection of vintage cameras.
Be sure to go check them all out – I love the baby Brownie the best!
shared her first attempt at reupholstering a worn out vintage chair.
She did a beautiful job! Be sure to visit her to see the before and after
and get a closer look at the composer-theme script fabric she used.
This feature made me do a double-take!
shared this industrial stool that needed
her reviving touch to make it look fabulous.
I did a double-take because I have nearly the identical stool.
Mine had some damage to the backrest, so I added some
antique papers to mine to "fix" the problem.
shared these wonderful "vintage" cans
she created with some labels she printed out and the cute
metal handles she added to the cans. LOVE them!
She also made the wonderful hook rack to hang them all on.
Feel free to grab this button if I featured you today!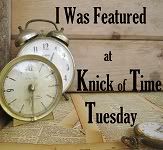 You'll also be pinned on the
Please, do the following before linking up:
1. Follow Knick of Time
2. Please only link up your
vintage-style
treasures.
No food, giveaways, link parties or sales links or posts that aren't vintage-style.
Those links will be deleted.
3. Post a link back within your post, so others can join the party.
Only those who link back will be featured.
Prepare to be Inspired!
Okay…Let's see your Vintage Style!
Due to unethical websites stealing content, I can no longer provide a full RSS feed. I work too hard to produce original and inspiring content to have it stolen by others. Thank you for your understanding – I appreciate each one of you that take time out of your day to visit Knick of Time!!