Welcome back to the 49th
Let's look at some of the wonderful links shared last week.
brought a huge smile to my face and heart with this "Anne (with an e)
of Green Gables dresser she created. So charming!!!
gave an old wooden tool box a feminine face lift.
Lovely!
I've got 2 rooms in my house wallpapered in antique books, so this accent wall done by
Angela @ Number Fifty-Three
grabbed my attention.
Didn't it turn out beautifully? Love her beautiful buffet in front of it also!
Revi @ Revisionary Life
shares my love of rust, and lots of it. Take a look at
this rusty, rolling wagon of bliss. It's going to be a
beauty this fall filled with pumpkins, gourds and flowers!
Feel free to grab this button if I featured you today!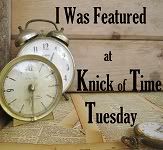 You'll also be pinned on the
Please, do the following before linking up:
1. Follow Knick of Time
2. Please only link up your
vintage-style
treasures.
No food, giveaways, link parties or sales links or posts that aren't vintage-style.
Those links will be deleted.
3. Post a link back within your post, so others can join the party.
Only those who link back will be featured.
Prepare to be Inspired!
Okay…Let's see your Vintage Style!
Due to unethical websites stealing content, I can no longer provide a full RSS feed. I work too hard to produce original and inspiring content to have it stolen by others. Thank you for your understanding – I appreciate each one of you that take time out of your day to visit Knick of Time!!