If you love God's Word, you are going
to love the giveaway I have for you today.
I was Etsy browsing one day and came across a shop called
Treasured Word,
and instantly knew this was a shop I wanted to introduce you to.
Shop owner, Kellie Jeffrey has a simple goal for her business…
"…encouraging others to treasure His word more than their daily bread;
to meditate on His word day and night."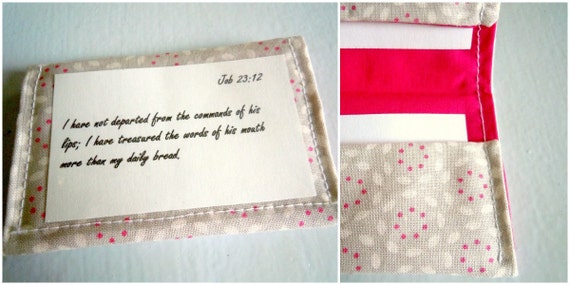 Kellie creates little "wallets" that are designed
to hold 20-30 Scripture memory cards.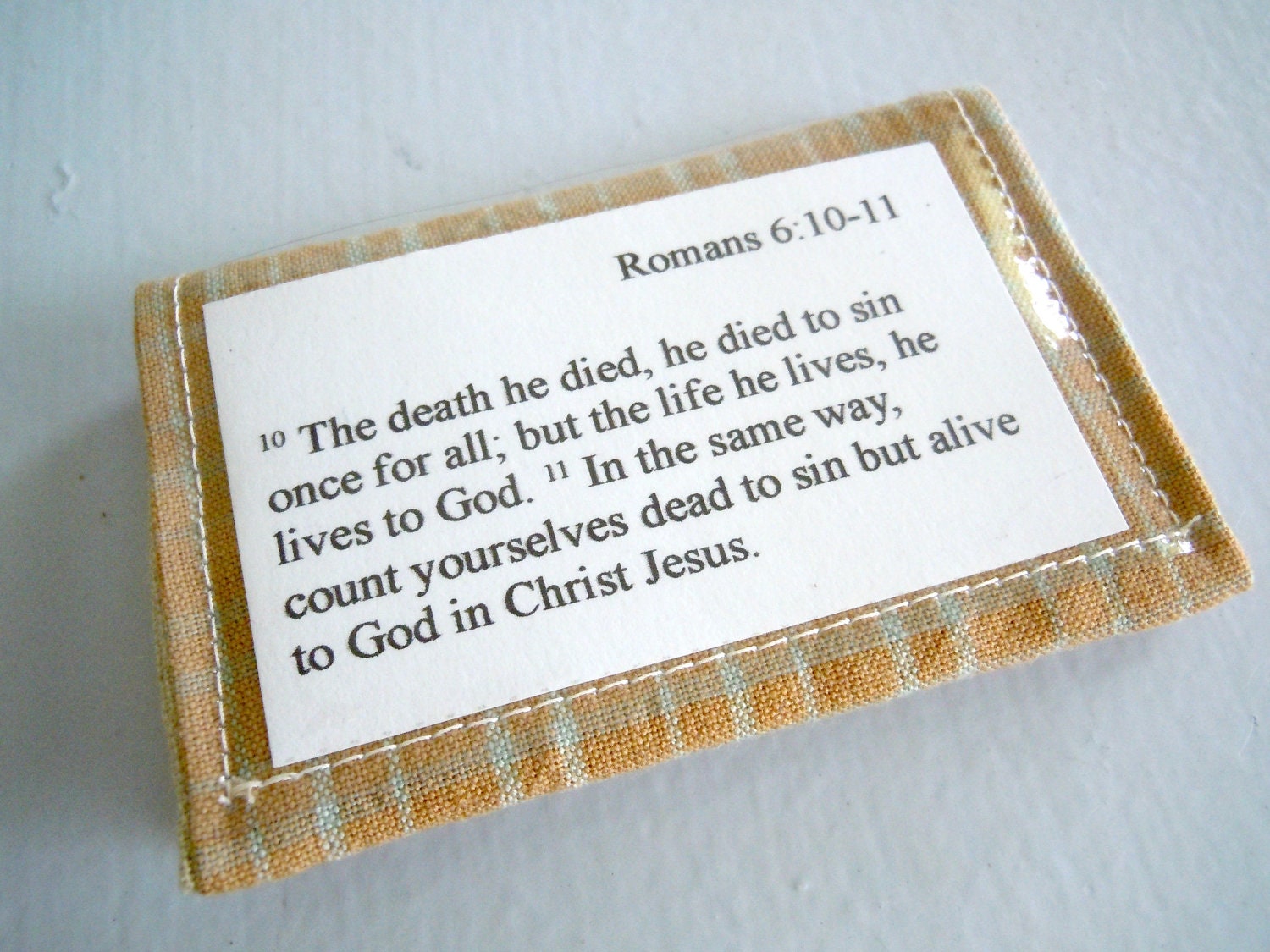 She uses a variety of fabrics and linings and includes
a clear plastic pocket sewn on the outside of each
to hold the current verse you are memorizing.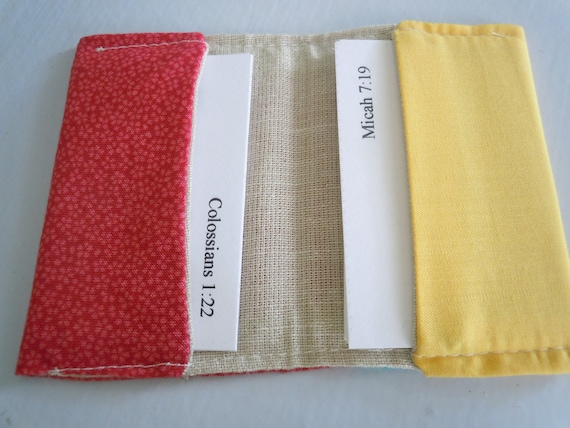 She includes a link where you can print blank cards
to write verses you want to memorize, but she also sells sets of 18
Gospel Cards in your choice of translations.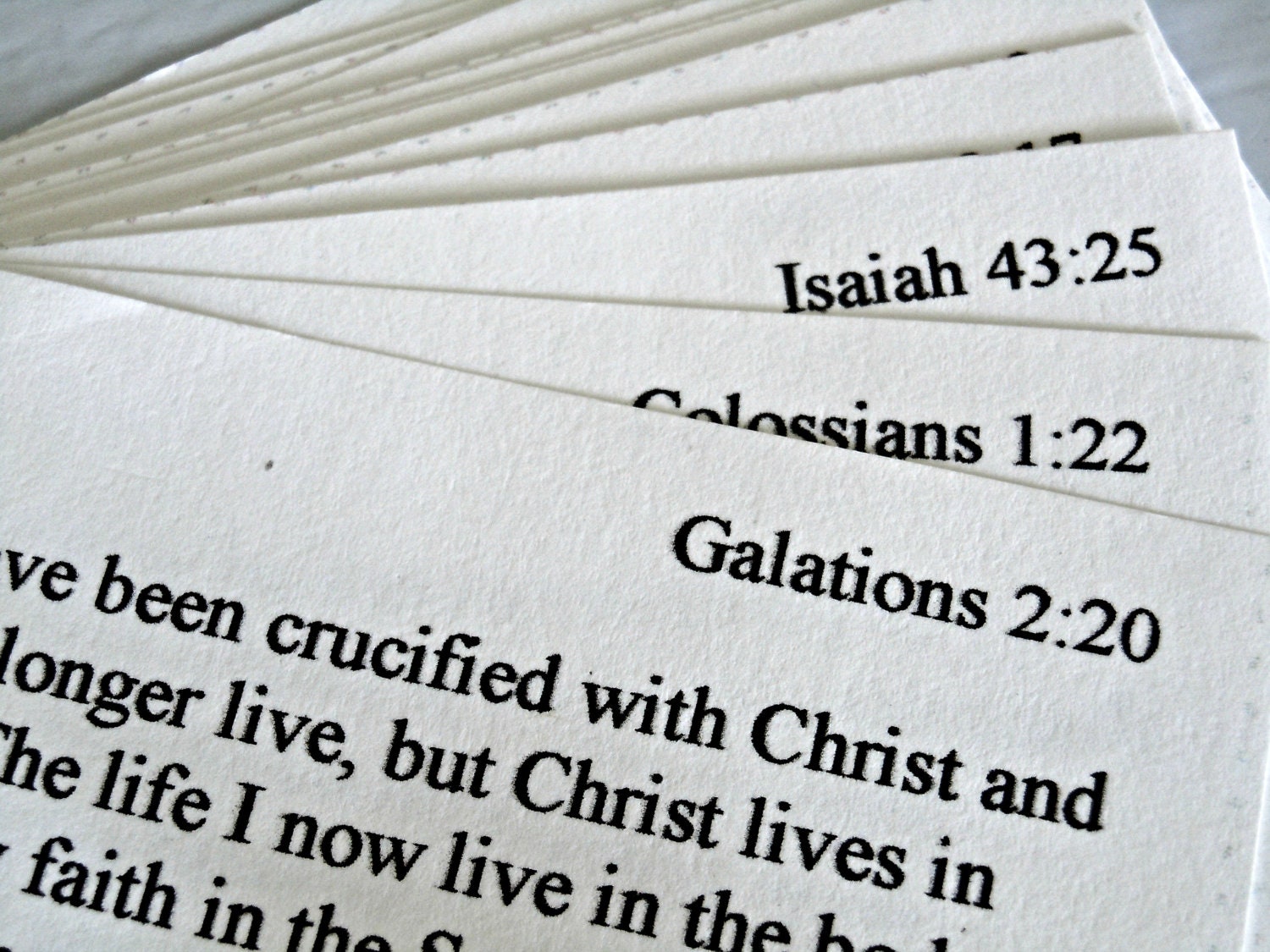 Kellie graciously sent me one of her Scripture card holders
in this adorable banner fabric. It is the perfect size to carry in my
purse, or have on my desk. They are also the just the right size to
give as stocking stuffers, and are so inexpensive.
Memorizing Scripture is a discipline that takes just a few minutes
each day, but the rewards last a lifetime.
One winner will receive 2 Scripture Card Holders
and 2 sets of Gospel Cards, so you can have one set
in your home and one in your car, OR keep one set
for yourself and bless someone else with the other set.
I hope every one of you enters this giveaway, but
there will only be 1 winner, so I would seriously like
to encourage everyone to purchase these very inexpensive
little holders. For less than the cost of going to a movie,
you can get one shipped to you, including the cards.
Purchase 1 for yourself, or for a friend or neighbor.
Bless your Secret Sister or Sunday School teacher at church,
and don't forget your kids.
I'd seriously love to see her inventory sold out!
Kellie is offering a 10% discount using the code
KNICKOFTIME10, so now is the time to stock up for gifts.
I don't think Kellie has any "get rich" dreams from her shop,
but I know that she believes you'll be richly blessed
if you study, meditate and memorize God's word.

4 opportunities to win:
(Leave 1 Comment for each entry)
1)
Required
–
Visit
Treasured Word
, then come back here and leave a comment
which two card holders you would like to receive if you win.
2)
Optional
–
Get 2 entries for making a purchase from Treasured Word!
Leave a comment stating what you purchased.
3) Optional – Share a favorite Bible verse as a comment
(please leave the whole verse, not just the reference).
You don't need to follow Knick of Time to enter, but I hope you do!

4) Optional – Please help spread the word about this

giveaway

with a link

on your blog or Facebook page,

for 2 additional entries

!This giveaway is open to US residents,ages 18 and older and will end on Oct. 1st.

The giveaway for a set of 5 Packaways storage containers
ends at midnight on Sept. 24th, so if you haven't entered yet,
you'll want to do so HERE.


Blessings,
Angie
Due to unethical websites stealing content, I can no longer provide a full RSS feed. I work too hard to produce original and inspiring content to have it stolen by others. Thank you for your understanding – I appreciate each one of you that take time out of your day to visit Knick of Time!!
Please know that Knick of Time uses affiliate links, including but not limited to Amazon to help keep this blog up and running.