Welcome back to the 53rd
This is the place to share anything
old, treasured, passed-down or tattered.
Share anything vintage (or newly created to look that way!)
I would SO appreciate it if you'd take a moment to
add the party button to your blog and help spread the word.(the button will appear smaller on your blog)
The giveaway for a set of 5 storage containers from Packawaysends at midnight tonight, so if you haven't entered yet, you can do so HERE.The entries are still pretty low, and there will be3 Winners, so you could be the winner!!!
I also have another wonderful giveaway from Treasured Word
for 2 Scripture Packs. I LOVE mine! Go HERE to enter.

Now, let's look at a few special features from last week's party.
Janet @ The Decorating Diaries
is resisting the change of seasons with this dresser
she repainted with a pretty spring green.
I think it will look fabulous dressed out for autumn as well though.
Anita @ Cedar Hill Ranch
has been sewing up a storm and has created THE
most gorgeous pillows and furniture slipcovers
with grain sacks. Well done, Anita!
Deanna @ It's Just Me
has scored
many fabulous finds for her home recently,
including this big beauty of a scale.
Feel free to grab this button if I featured you today!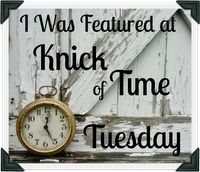 You'll also be pinned on the
Please, do the following before linking up:
1. Are you following Knick of Time ?
If not, I hope you'll do so now – thanks!
2. Please only link up your
vintage-style
treasures.
No food, giveaways, link parties or sales links or posts that aren't vintage-style.
Those links will be deleted.
3. Post a link back within your post, so others can join the party.
Only those who link back will be featured.
Looking forward to seeing your vintage style!
Angie
Shop Knick of Time – 10% Discount Code 10SPECIAL
Due to unethical websites stealing content, I can no longer provide a full RSS feed. I work too hard to produce original and inspiring content to have it stolen by others. Thank you for your understanding – I appreciate each one of you that take time out of your day to visit Knick of Time!!
Please know that Knick of Time uses affiliate links, including but not limited to Amazon to help keep this blog up and running.