Is anyone else still trying to get used to the time change?  My body just hasn't gotten accustomed to it and as soon as it gets dark, I'm yawning and ready for bed.
My oldest son is coming home for the weekend and arrives late this evening, so I'm going to catch a few winks now so I'll be able to visit with him tonight.
While I'm pulling the shades to get some rest, I thought I'd show you some of my favorite lamp shades that I've sold in my shop.  I don't have any available right now – sorry!  I love the look of the bare metal shades and think they make great "cloches" for vignettes.  This shapely shade is my favorite.  I love the overhead view of it.
Here it is from the front.
A cute little shade.  Side note – a young cat showed up at our house a few months ago and "adopted" us.  He discovered this adorable little nest I had and shredded it to pieces.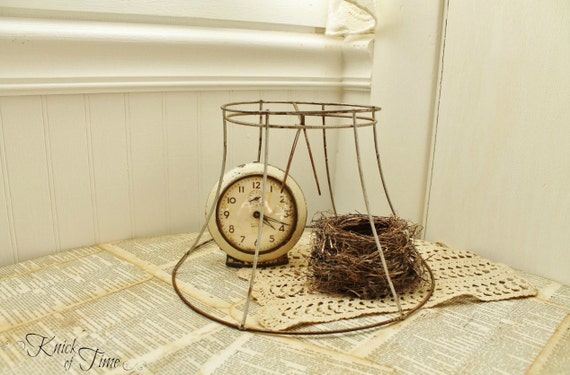 Here's another beauty!  I love the shape of this one, as well as the intact fabric remaining on the metal.
A no-nonsense, straight lines shade.
Big Sister and Little Sister – these two are the same style, except Little Sister is missing the center piece (looks like it was there at one time).
This shade is identical to the first shade I showed you, but I wrapped it in twill tape.  I'm keeping this one to use either in our bedroom our in the guest house – I haven't decided which yet.
Blessings,

Angie
Please know that Knick of Time uses affiliate links, including but not limited to Amazon to help keep this blog up and running.