I'm on the road right now, preparing to spend Thanksgiving and the weekend with my 4 kids.  I almost always bring a project with me to work on for road trips, but I forgot some of the supplies I needed, so I guess it really will be a getaway.  I am hoping to hit at least a few thrift and antique stores on Friday and Saturday.  In the meantime, here are some of the recent finds I've listed in my shop, as well as some of the recent projects I've finished.
I found this banker's desk lamp in a thrift store several weeks ago, and was SO tempted to keep it.  I seriously loved it,  but my theory has been that if something doesn't sell, THEN I can keep it.  It did sell, and went to one of my wonderful, regular customers, so I'm glad it went to a good home!
I've had this glass "cloche" for several years.  It had a clock inside it, but the clock doesn't work, so my husband removed it and I added an old clock face on the base.
The base looks like well-aged brass, but it's actually plastic.  It has SOLD.
I found this adorable set of china cups several weeks ago, when my mom and I went to an antique store.
They are restaurant-weight china, and I think they may have been intended as fruit or pudding cups.  This set is available HERE. (sold)
It's been awhile since I've listed any antique windows in my shop, and I still have bunches of them in my barn, so I got off my duff and got one listed.

This one is nice because it has creamy white chippy paint on one side, and adobe brown colored paint on the other side, so you can get several looks with it.  It has the original latch on the top and the original window pull on the brown side.  It's available HERE. (sold)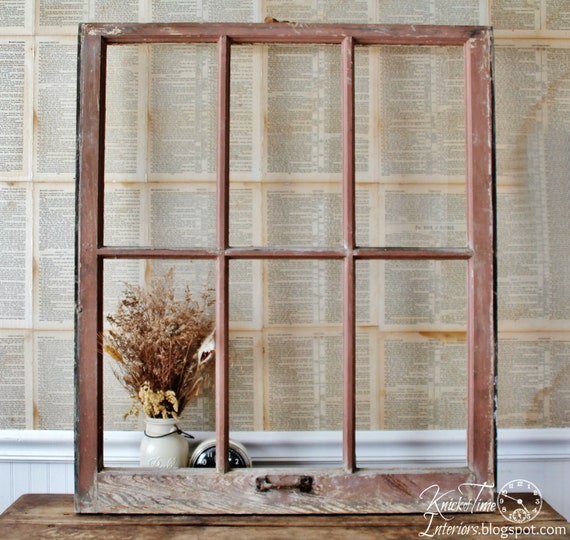 This pretty mint-colored Smith-Corona Empire typewriter was a thrift store find.  It has SOLD.
I was ready to take my last photo of it, when my daughter's cat jumped up on the table and curled up for a nap.  I didn't have the heart to kick him off, so I let him stay.
He finally got up and I was able to start taking photos again, but apparently decided he needed more sleep and jumped back up again!  He had the nerve to put his paw over his eyes – looking as if I was the one disturbing him.
This Wm. Rogers Silver platter was another thrift store find.  I like to display silver trays like this behind ironstone plates.  It's such a pretty contrast.  It's available HERE.
This style is available HERE.
I also got busy creating several Christmas signs on salvaged wood.  All of them are available HERE.
Here's how it looked when I got it.
I gave it some fresh paint, distressing and a remnant from an antique grain sack added in the center.
An old metal photo frame – painted and distressed.  I painted a pretty book cover and distressed it to highlight the details on it, then painted a smaller frame and attached it to the cover.
Blessings,