Here's a look at some vintage items I listed in my shop this week, as well as some recreated items I finished. Some things have already sold, which I've noted. You may want to make yourself comfy, because I have a lot to show you this week!
I got this adorable antique wooden ladder at an auction. The aging on the wood is perfection.
You'll notice it is missing the upper rung, but that didn't bother me at all, because it leaves a better space for displaying taller things, like a big ironstone pitcher. It has sold.

I found this adorable child's school chair at an antique store.
I don't mind when these chairs show lots of wear, and even love when I find them with names and initials carved into the wood. It adds to their character, in my opinion. I never carved into my chairs at school, but I admit that I frequently carved my name into my mom's old wood sewing table, which wasn't the smartest thing to do, because she immediately knew who the culprit was.
This chair has sold.
I found 3 of these wall racks at an antique store. They were used to hold tire tubes automotive shops.
I also got his antique documents box at the auction. It's available HERE.
And this small suitcase. It's available HERE.
Yellow is not a color I use much in my own decor, but I love the pale yellow and crazed surface on this bowl.
If it doesn't sell, I'll work some yellow into my decor and happily keep it. It's available HERE.
This mid-century office paper sorter is available HERE.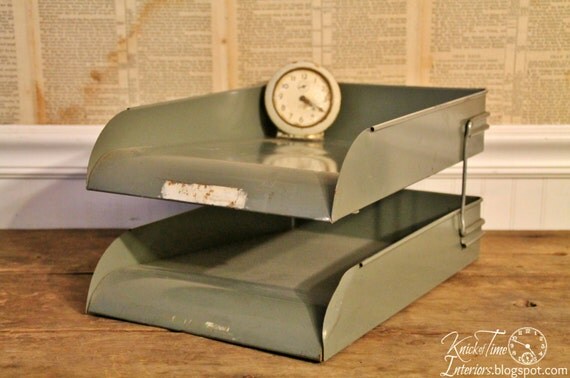 Now to show you a few projects I worked on this week.
You'll recall that my cousin lost her home in the tornado that struck her town last month. I went over and helped them pick through the wreckage, looking for anything that could be salvaged. They set aside any wood pieces they thought I could use, so little by little, I plan to repurpose them into new things and give them back to my cousin. I'm not sure what this little antique door came off of, but it must have been really lovely. It has leather hinges and beautiful wood, although the wood bears the scars left from the tornado now. I added a bread pan to the front and hangers on the back, so it can be used as a little wall bin now.
I found enough enamelware bowls for my husband to assemble 2 more tiered stands – one with black trim and one with red trim.
Both of them sold quickly and I have a few people on waiting lists for more, so if you want one, send me a message through my shop on Etsy and I'll add you to the list. It's unlikely we'll get any new ones made before Christmas though.
I found this magazine rack at a thrift store and really liked the shape, but the finish was very tired, so I gave it a little makeover.
It's available HERE.
On a completely random side note – my daughter looked out our kitchen window a few days ago and spotted this big flock of wild turkeys out in our pasture. We spot so much wildlife out there, we finally put a pair of binoculars on the window sill, so we can get a closer look quickly.
Blessings,

Angie
Due to unethical websites stealing content, I can no longer provide a full RSS feed. I work too hard to produce original and inspiring content to have it stolen by others. Thank you for your understanding – I appreciate each one of you that take time out of your day to visit Knick of Time!!
Please know that Knick of Time uses affiliate links, including but not limited to Amazon to help keep this blog up and running.