Welcome to Knick of Time Tuesday!
If it is OLD,
looks OLD,
was
inspired by something OLD
,
or was made from
something OLD
…
Let's See It!
Here's a review of what I shared last week, in case you missed any posts.
If I featured you today, feel free to add this button to your blog!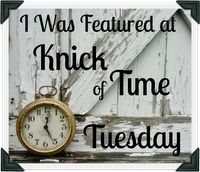 You'll also be pinned on the
Today's Sponsor!
Please remember to
pin from the original source
– not from this page.
Once you've linked up here, be sure to link up at
Nifty Thrifty Tuesday @ Coastal Charm!
Due to unethical websites stealing content, I can no longer provide a full RSS feed. I work too hard to produce original and inspiring content to have it stolen by others. Thank you for your understanding – I appreciate each one of you that take time out of your day to visit Knick of Time!!
Please know that Knick of Time uses affiliate links, including but not limited to Amazon to help keep this blog up and running.