For all you "junkers" out there, here's a test of your junk knowledge. Can you guess what these metal parts originally were, that I used to created my newest Barn Wood Wall Bins? The answer is at the end of the post.
I'm kicking myself now that I didn't buy more of them, but I found them at an indoor flea market, while we were visiting family in New Mexico, so space was limited in our Jeep, and I only bought 3 of them.
The wood I attached them to was inside our barn when we bought our home. It is really beautifully weathered, complete with some tiny little insect holes, which I love. I made a stencil, using the numbers from an 1800's sewing pattern graphic (shared here), to paint onto the bins.
Well, have you guessed what the metal parts came from?…….
According to the dealer I bought them from they are parts from an elevator. Pretty cool, huh?
This Barn Wood & Salvage Wall Bins is available in my shop HERE.


I'm thrilled to welcome Sweet Magnolias Farm, as my newest blog sponsor.


They have really charming handmade goods in their shop, like this table runner, and also have a blog and Pinterest boards, so be sure to visit them all!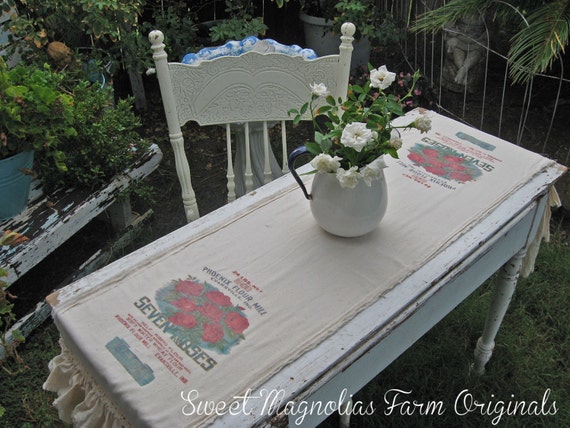 Blessings,

Due to unethical websites stealing content, I can no longer provide a full RSS feed. I work too hard to produce original and inspiring content to have it stolen by others. Thank you for your understanding – I appreciate each one of you that take time out of your day to visit Knick of Time!!
Please know that Knick of Time uses affiliate links, including but not limited to Amazon to help keep this blog up and running.