How to turn a wooden folding chair into a standing chalkboard.
Today, I want to show you one of my favorite kinds of projects.  I seek out broken things at yard sales, thrift stores, and auctions, because I get a real kick out of taking something broken and turning it into something usable again.
You may recall that last fall I bought 35+ antique wooden folding chairs at an auction.  I sold all of them that were still in good condition, and then painted those that had chipped wood and sold them as well.
I was left with about 7 or 8 folding chairs that had damaged seat covers.  I removed the covers from most of them and re-covered them with muslin that I applied an antique graphic to, so they can be used as memo boards.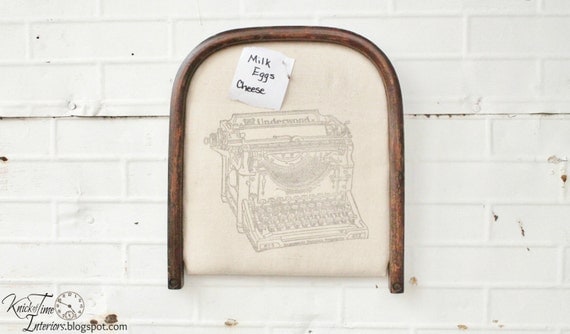 Some of the frames were damaged beyond any use, but I try to salvage as many parts as possible from "junk."  I was left with a few folding chairs that had frames that were still good, so I wanted to find a new use for them.  I decided to turn them into sidewalk-style standing chalkboards.  My husband cut some squares from MDF, which I painted with chalkboard paint, then we attached them to the frame of the chair with some old bolts so they wouldn't be too shiny.

I rooted through my wood scraps and found 2 matching pieces of trim and added them to the top and bottom of the chalkboard.
A chain was added between the front and back legs to keep the legs standing open.
I love salvaging junk!
Blessings,

Please know that Knick of Time uses affiliate links, including but not limited to Amazon to help keep this blog up and running.