Welcome to day 9 of my 12 Days of Christmas event!  Did you hit the stores to find great deals on Black Friday?  I don't like waking up so early in the morning to stand in the cold, so I never do, but I do need to get busy with my Christmas shopping, because I know the next month will fly by.
For the last several weeks, my kids have been mentioning ideas of gifts they'd like for Christmas, and I told them they need to write them all down, and put their list on our refrigerator, because I'll never remember everything they mention.  My daughter pointed out that my husband and I need to post our wish list as well, and that gave me the idea to create a cute chalkboard for a Christmas wish list.  It's something that can be reused every year, and looks nicer than scraps of paper stuck on the fridge.
For this project you'll need:
* a piece of wood (I used a section of scrap lumber)
*red & white paint
*chalkboard paint
Instructions:
1)  Paint your board with 1-2 coats of paint, and allow to dry.

 2)  Stick painter's tape along the edge of the board, forming a "frame", then paint over that area with chalkboard paint.
Once you remove the painter's tape, it should look like this.

 This is an extra step that you won't really need, but I decided to change the color of the edge of my chalkboard, so I put painter's tape along the inside edge of the chalkboard area, and repainted the sides red.  You'll see why in a moment, but you shouldn't need to do this step.
Once the red paint was dry, I taped over the red area, right up to the edge of the chalkboard area, then I got the lace tape and added it to 2 of the opposite sides of the board.  I did the 2 longer sides of my board first (not shown).  Use a foam brush and with just a little paint on it, dab an alternating color of paint over the lace tape.  Make sure you have really rubbed the lace tape firmly to the board first, so the paint won't bleed underneath.
 When you remove the lace tape, you'll have a lace border like this, with the bottom layer of painat showing through where the lace tape was.
 Here you can see it once I removed the painter's tape from the chalkboard area.
 Once the first 2 sides have dried, tape over them (right up to the chalkboard area), and apply lace tape on the other 2 sides, allowing the lace tape to overlap the painter's tape.  Once you have applied paint over the 2 shorter sides, it will look like this.
I used fine grit sandpaper to distress the paint just a little, then it was time to add "Wish List" to the chalkboard.  I picked a font and made a printable using Picmonkey, then rubbed a piece of chalk on the back side of the paper.  I laid the paper on the chalkboard area, and used a ball point pen to trace the words.  That makes the words show up as chalk, which gave me the lines to paint over with a fine tip acrylic paint pen.
I painted lines to write items on the list, and added a small bulldog clip at the bottom, so ads from the newspaper, or a small pad of paper can be attached there.  I makes a convenient spot for a piece of chalk also.
Now I'm ready to start making my list!  How about you – how much Christmas shopping have you finished?  I still have a longgg way to go, so I need to start making some headway on my shopping list.
I've had a few people ask me if I would get any more enamelware tiered stands in my shop.  We haven't had much time to work on more lately, but I did list this one today  (available here).
I think this will be the last  3-bowl enamelware stand we'll get listed before Christmas, although I do still have these 3 stands available (click on images to view listings) as well.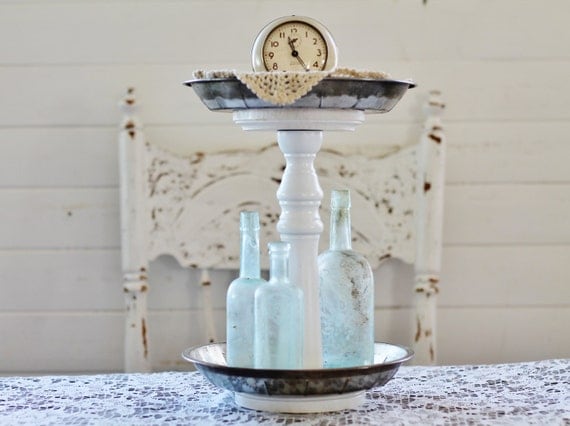 I also have 1 Milk & Cream Co. sign made up and ready to ship.  It's available here.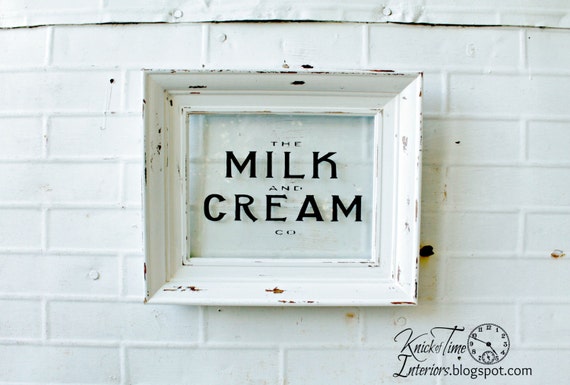 Only 3 days left of my 12 Days of Christmas!  I really was't sure I had it in me to create that many things for Christmas, but it has been a fun challenge, but I actually have a few project ideas that I haven't had time to work on yet, but hope to.  If you missed any of the daily projects, you can find them all HERE.
Please know that Knick of Time uses affiliate links, including but not limited to Amazon to help keep this blog up and running.